If there's one thing I've learned about a baby's first year, it's that the days are long, but the months fly by.
The first four weeks after my twin girls were born were a blur of sleepless nights. I felt like a zombie in The Walking Dead; I was going through the motions of feeding, changing, and napping.
Just when I thought I could relax after putting the girls down in their crib to sleep, they would wake up twenty minutes later and I'd have to start the routine again. Sound familiar at all?
But just like that, a month went by. And then two. Wait, what?!
I gazed down at my girls' sweet faces and all of a sudden, they didn't look so newborn anymore. And I realized that while I had taken some random photos here and there, I hadn't really taken any that compared their growth.
I was so focused on getting through each day, that I forgot to take a moment to take note of the beautiful changes my babies were going through.
So in their second month, I made a conscious effort to document my girls' development through photos and journaling. One day, when my girls are all grown up, we'll look back at these photos and reminisce. I can't wait.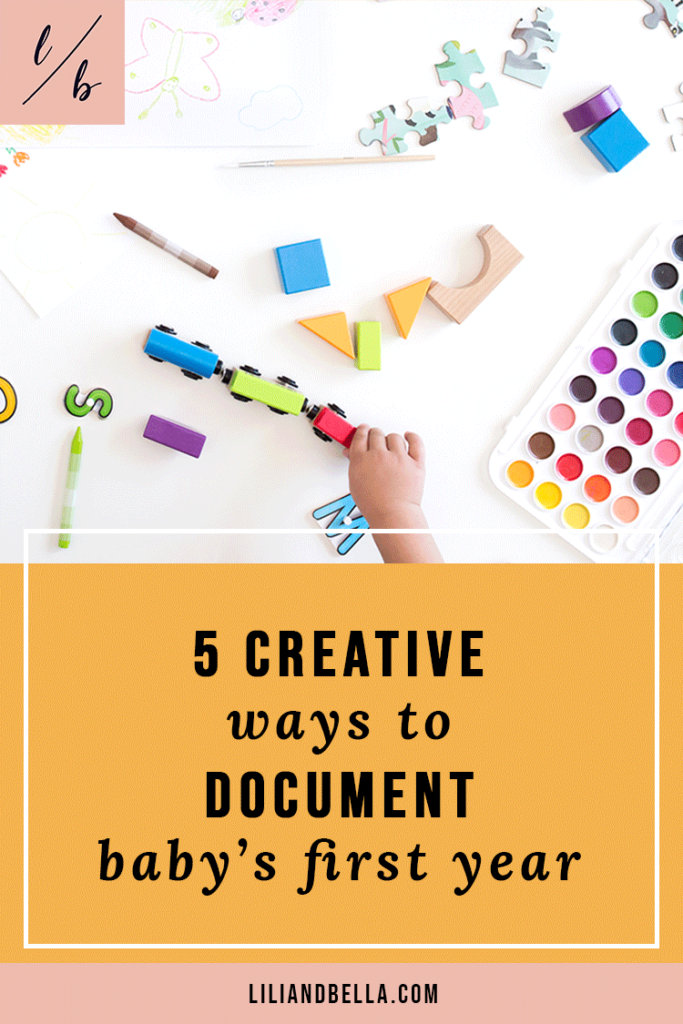 Here are 5 creative ways to document your baby's first year:
#1 Plan monthly photoshoots
Track your baby's development with monthly growth charts. You can take the photo in the same spot every month (such as a couch) and fill in the month, weight, length, and any milestones.
You don't need a fancy DSLR camera for these photoshoots. Just use your phone and apply fancy filters; I use an app called A Color Story
If you don't have a physical growth chart to include in the photos, you can use digital ones. I use an app called Baby Pics to add digital stickers.
You may not see it now, but in a few months, you could look back on the previous photos and wonder how your baby grew so quickly right before your eyes!
#2 Keep a monthly milestone tracker
I have a dedicated notebook in which I jot down weekly development, such as when my girls first smiled back at me, when they grabbed their toys and sat up on their own.
It's amazing how much babies learn, and in such a short amount of time! One week they're practicing Tummy Time, and the next, they're starting to crawl!
Noting when the baby reaches certain milestones can help to break up the first year into mini celebrations.
#3 Share milestone updates on social media with your friends and family
My friends are more surprised than I am at how quickly the girls grow, so let them remind you of how amazing that is.
I have a dedicated Instagram account for my twins (if cute puppies can have their own accounts, so can my girls!), where I share snapshots of 'cute things the girls do'. You don't have to set up a separate account for your baby, but don't be shy to share photos. People love cute babies and puppies! And don't forget video. Videos of babies giggling make my day.
#4 Make an imprint of your baby's hands and feet in plaster
You can find kits that are specially made for babies, so you can create a keepsake. It's a great idea to do this when they're babies and when they're toddlers, so you can compare the size of their hands and feet. Include a photo of them at that age and frame it.
#5 Celebrate holidays as milestones
Depending on which holidays you celebrate, create a keepsake to remind you of "baby's first." Include the year so that you can reminisce one day.
Bonus (#6): With all the photos that you'll be taking, you could make a photo book. There are platforms where you can easily upload photos to make a photobook – plan to make one every year! The platform I like and use is Chatbooks, which allows you to easily upload photos directly from your phone or computer, add captions, and get them printed.
The first few months of your baby's life will inevitably pass by in a blur when you look back on it. And your baby will never be as small again ?.
So press pause and document the little (as well as the big) moments. You'll be glad you did when they grow out of the baby phase!
If you want to see a complete list of apps to help you document your baby's development, check out my post on the Top 10 Pregnancy Apps For Expecting Moms.
What are some other creative ways you've documented your baby's milestones?
Let me know in the comments below!