A beginner's guide to starting a daily journaling practice
In this post, I'll share my top 5 tips to start a journaling routine that you'll enjoy and want to continue.
*This post contains affiliate links. If you make a purchase through one of these links, I may receive a small commission at no extra cost to you. Please see my Disclosure for more details. Thanks for supporting!
I've kept a journal for as long as I can remember (one of my first journals included who I had a crush on in school, LOL). Initially, I used a journal to document everything that happened in my life, but then it naturally evolved to writing about deep emotions, self-discovery, and personal growth.
As a natural worrier, journaling has helped me most with anxiety relief and grief. Any time I feel overwhelmed or too "in my head", I take out my pen and journal to write. It's why I'm a huge advocate for including journaling as a part of any self-care routine and wellness journey.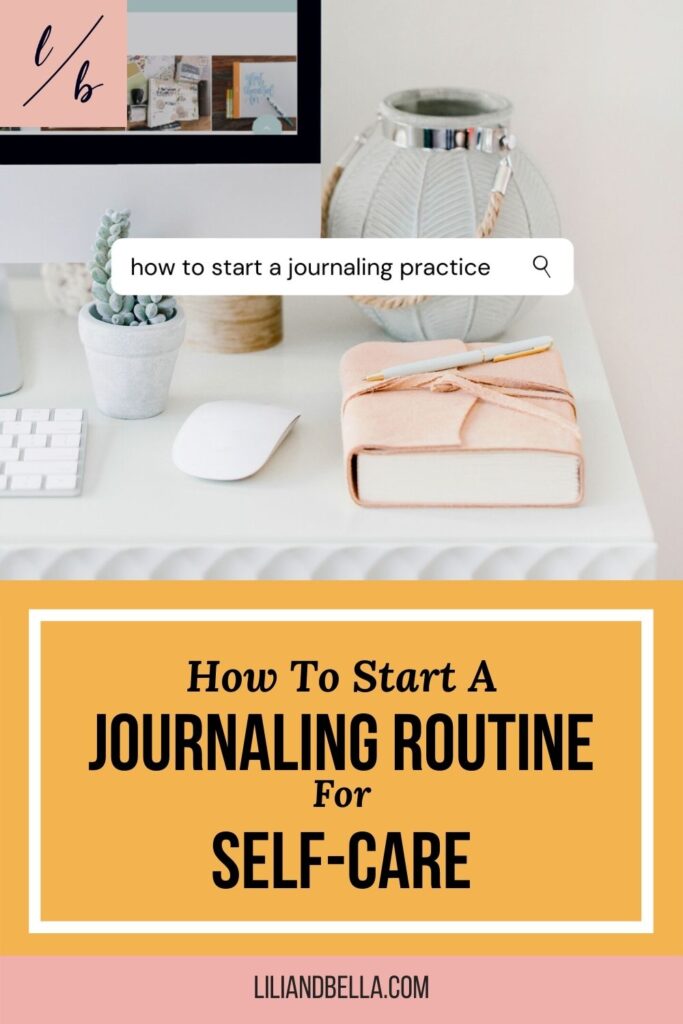 Writing in a journal daily can bring balance to your everyday hectic and stressful life.
Here are some of the top benefits of journaling that I've found to be true in practice:
INNER PEACE – Part of what makes a day hectic to me are the many thoughts that run through my mind all day long as a mom.
Journaling helps me connect to myself and bring a moment of stillness to my day. Stillness, to me, is when I quiet my mind and listen to my inner self or intuition.
On days I'm able to make time for self-connection, I definitely feel inner peace and confidence.
PERSPECTIVE – Putting all your thoughts on paper can give you a birds-eye-view of everything that's going on in your life so you can shift your perspective if needed.
Sometimes just writing down all my thoughts lets me see things that I might otherwise miss.
I turn to journaling when I'm emotional because it lets me vent my frustrations on paper and helps me calm down. Once I'm calm, I can look at the situation with an open mind and see what triggered me, how I can move forward, and what to do next time.
REFLECTION & PERSONAL GROWTH – It's easy to forget the little moments that bring us joy in the busyness of life. Daily journaling is a way to acknowledge and remember them.
At the end of the month, I like reading through past journal entries about what happened and reflecting on how far I've come. Seeing personal progress in writing is inspiring and fuels more action for me.
PROBLEM SOLVING – Journaling about a problem lets you release your emotions and feelings so that your mind can focus on finding solutions. Often times, the solution is staring right at me, but it takes examining the problem from different perspectives to make a decision.
Exploring your life in writing lets you gain clarity about what's working and what you may need to let go of.
If you want to start journaling, here are my top 5 tips to making it a practice you enjoy:
1. Use a physical journal
Use a journal that works for you and your writing style. Whether it's a plain notebook, daily planner, or a fancy leather journal, use something that inspires you to write.
I would recommend using a physical journal so that you have a set intention for using it (to connect to yourself and your thoughts). I like Archer & Olive notebooks because of the quality paper, variety of sizes, and pretty covers. You can save 10% on your Archer & Olive order with the code CAROLA10.
I've also used Moleskine and Hobonichi planners for daily journaling. Any notebook will essentially work, as long as it inspires you to write and stick with it.
Also, keep the journal in a spot where you can easily access it. I keep my daily journal on my nightstand so I can reach for it when I'm having my morning cup of coffee or before I go to bed. 
2. Choose a day and time to write
Pick a time when you can disconnect from all distractions and sit with your thoughts. You may decide to do it daily or weekly, but I find that every other day tends to work well with my busy mama life.
Add some flexibility so that if something comes up, you don't feel pressured to journal, which can then seem like a chore. Try not to miss more than few days though because backfilling entries is not as fun and you can easily forget meaningful thoughts.
If you're on the go and feel the need to remember something, try recording a voice memo or using the notes app on your phone. Giving yourself some freedom around journaling means you're more likely to show up, and that's the most important thing.
3. Do it for you
Incorporate it as part of your self-care routine and make sure you show up for yourself.
Make it fun and insightful. If you don't get anything out of it, you'll eventually find more important things to do. Continuing to show up reaffirms the inner belief that you're worth the time, and you are.
Write as if you're talking to yourself and as if no one else is going to read your entries. Don't worry about grammar and writing perfect paragraphs; write in bullet points if that makes it easier for you.
4. Write freely or with prompts
Sometimes I journal after a meditation just to see what kind of insight I can gain after relaxing my mind. It can be an interesting exercise to find different times and places to journal in.
Some things you can journal about are: a recap your previous day (or your current day), make a list of things you're grateful for, write down your intentions. Write about a wellness journey or self-development.
Reflect at the end of the week and write down what worked for you and what you may want to let go of.
5. Read and reflect
Look back on previous entries from time to time to remind yourself of your personal growth. Reflect on how journaling has helped you every month and the benefits you get from it.
Try out different styles of journaling and dig deeper into your feelings (journaling can be quite therapeutic!) Be as creative as you want to be and remember there is no wrong way to journal.
Once you start a journaling routine, don't give up! Keep showing up for yourself to gain the benefits that writing in a journal can bring you. Make it a habit and try different journaling styles to find one that works for you.
Related: How To Practice Gratitude And Find Joy Every Day
For more journaling tips and prompts, come and connect with me on Instagram!
Pin this post to save it for a later read: